Feeling overwhelmed with the sheer volume of training programmes available to young adults right now? Well fret not, as we're here to help sprinkle some clarity on the current career pathways on offer to 16-24-year-olds.
Here at Hawk Training, we've been supporting individuals and organisations through our well-renowned apprenticeship programmes for over 30 years and we continue to do so with great pride and enthusiasm to this very day.
So what is an apprenticeship?
An apprenticeship offers a unique blend of work experience with structured learning and development. You can start an apprenticeship via two different routes:
You can already be in employment and you or your employer could be looking to upskill you in your workplace to support your progression.
You can be currently unemployed or looking for a change in employment, therefore opting for an apprenticeship opportunity that combines an apprenticeship training programme as part of the terms of employment.
To understand more about apprenticeships, click here.
Then comes traineeships…
In the past we've also delivered traineeships and following recent additional government funding, we're excited to be re-introducing them as part of our provision, targeted at 19-24-year-olds. Click here to find out more.
But again, what is a traineeship?
Think of it as work experience with an end goal. A traineeship will put you in a better position to compete for an apprenticeship or gain employment, as they provide the opportunity to build your CV and gain vital experience with local and national employers.
Employers are at the centre of traineeships to ensure they give you the skills you need to secure a job and succeed in employment.
Last but not least, is the government's latest kickstart scheme.
The kickstart scheme was introduced to tackle youth unemployment in the wake of the pandemic. It's a six-month paid job with a local employer, funded by the government, providing an opportunity for young people who are claiming Universal Credit to gain experience of working. Click here to find out more.
But what are the main differences between a traineeship and kickstart I hear you say? Well, this table should shed some light on which scheme you're most suited for: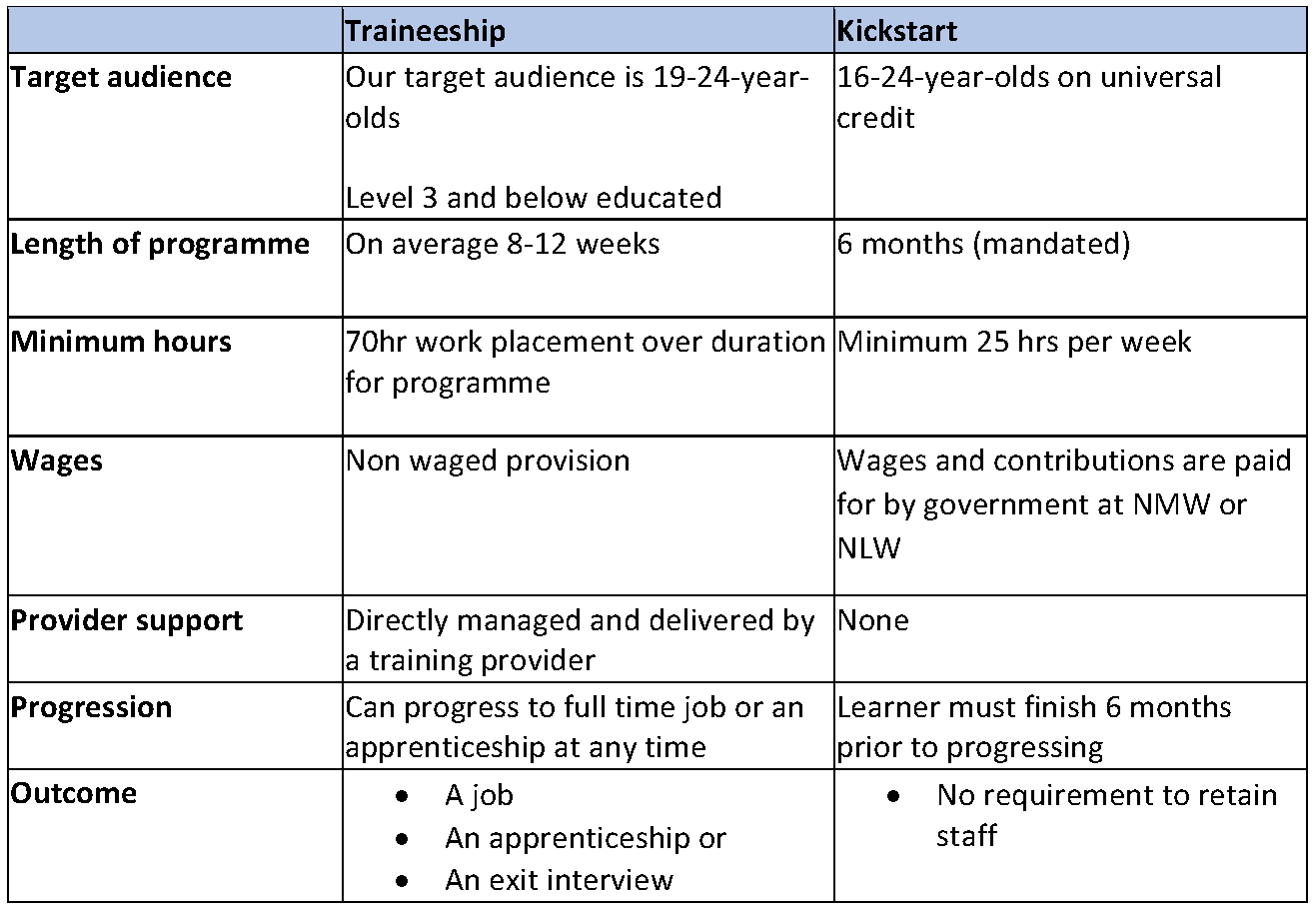 We hope this has helped provide some clarity but if you are an organisation or individual looking to begin a career, then please do not hesitate to get touch with our friendly advisors who are always on hand for support and guidance. Contact us on 020 8891 0992 or email hello@hawktraining.com.