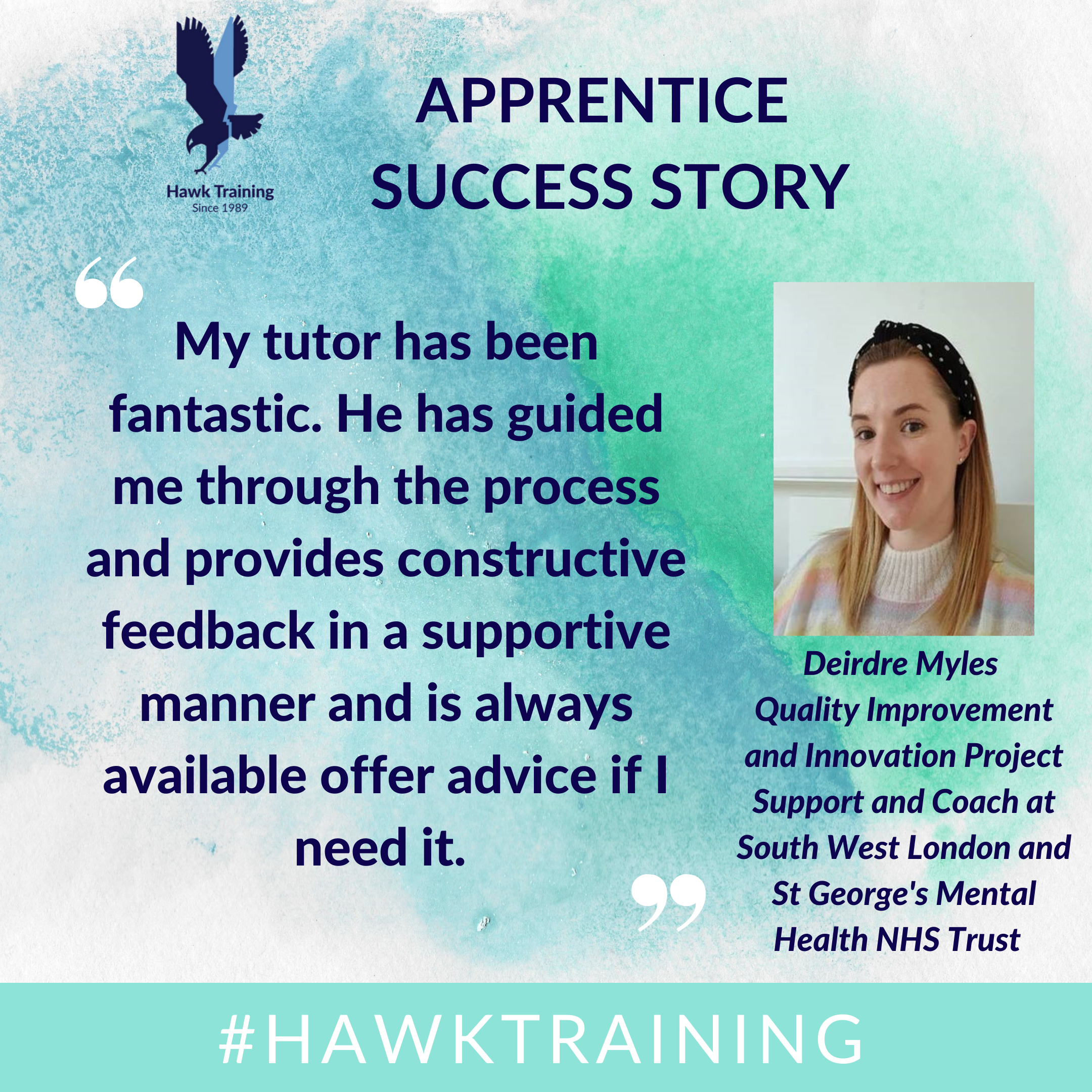 Deirdre Myles
We recently caught up with Deirdre Myles, Quality Improvement and Innovation Project Support Coach at South West London and St George's Mental Health NHS Trust, to find out how her apprenticeship programme has supported her development...
How did you find out about apprenticeships and why did you decide to undertake one?
My manager had approached me and suggested I apply for the course. I had been on a secondment with the Quality Improvement Team and I was very keen to expand on what I had learned during my time with them. This apprenticeship was a brilliant opportunity for me to develop my QI skillset and apply it in a practical way.


What did you find challenging about your apprenticeship?
It is currently a very challenging time to be working in the NHS due to high demand and staff shortages. This has meant that at times, it has been difficult to devote the time to the 20% of the job training.


How do you think you are contributing to your organisation?
Through doing this apprenticeship I have been learning the skills to identify and find solutions to issues in my department. This is ultimately helping the department to run more effectively and improving the experience for the patients.


What was the most inspiring thing that happened during your apprenticeship?
Being able to share my QI knowledge and seeing my colleagues become excited about making improvement has been the most inspiring part of the apprenticeship for me.


How has the apprenticeship benefited you? What skills have you learned?
The apprenticeship has benefited me enormously. I have grown in confidence and by developing my skills in QI, I felt ready to apply for a permanent position in the Quality Improvement Team. I was successful in my application and I am now working full time as a Quality Improvement and Innovation Project Support and Coach.


What would you say to someone who was deciding whether they should do an apprenticeship?
To anyone who is considering doing an apprenticeship, I would say go for it! It takes time and commitment, but it is time that you are putting towards your own personal growth and development. I am testament to the fact that doing an apprenticeship can open doors in your career.


How did you find the advice and guidance given throughout the apprenticeship duration?
My tutor has been fantastic. He has guided me through the process and provides constructive feedback in a supportive manner and is always available offer advice if I need it.


Are you looking to take your qualification further and undertake the next level?
I will certainly look to take what I have learnt so far and expand on it. I will certainly look into the possibility of undertaking the next level qualification.


What are you doing now and has this apprenticeship helped you to achieve your goals?
I am now working in a full-time role in the Quality Improvement Team. At the beginning of my apprenticeship I set myself a goal to move into a quality improvement role and doing the apprenticeship has certainly helped me to achieve that goal. It has provided with a solid foundation of skills and knowledge that I was able to call upon when applying for the role and during the interview.


Would you recommend Hawk Training as a training provider to others looking to do an apprenticeship?
Yes I would recommend Hawk Training.


If you had to use one sentence to describe your apprenticeship what would it be?
Empowering.
Prev
Next