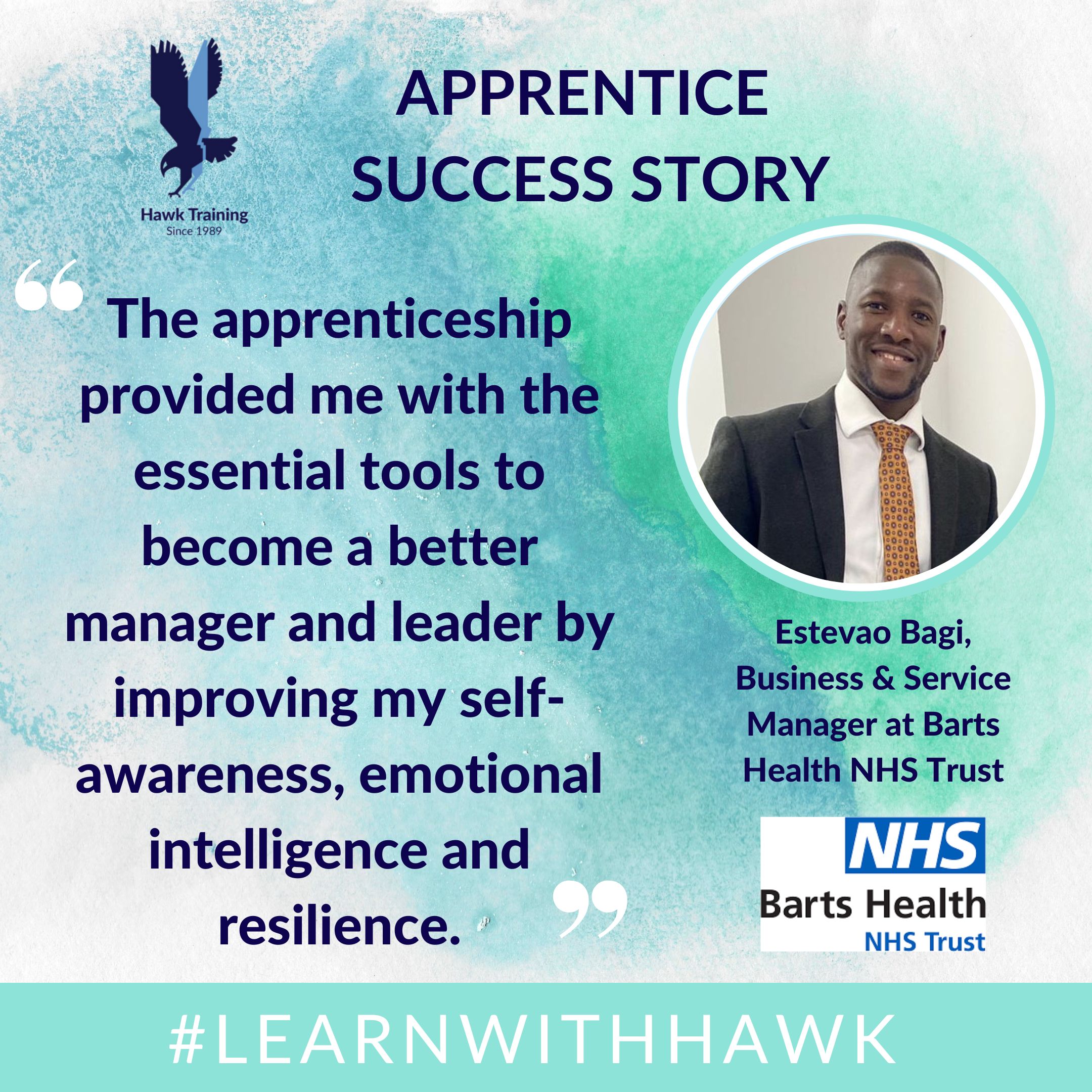 Estevao's Apprenticeship Journey...
We caught up with Estevao Bagi, Business & Service Manager at Barts Health NHS Trust, who recently completed his Level 5 Management Apprenticeship. Check out his journey...
• How did you find out about apprenticeships and why did you decide to undertake one?
I decided to undertake the Level 5 leadership and management apprenticeship programme because I wanted to become a better leader and manager to achieve successful outcomes. I thought that I could do better than what I was doing and I felt that I was not helping myself and my teams to fulfil their potential and reach a higher level of performance.
I wanted to learn about the right tools, essential "recipes" and formal terms that could help me convey my vision to my team so that the objectives could be shared and well received in order for us to work towards the outcome together.


• How do you think you are contributing to your organisation?
I have been able to contribute with immediate and long term improvements at the organisations I have worked for. I am now applying the same strategies that worked in my previous work to my current organisation and so far there has been signs of service and quality improvements such as the creation of quality improvement project to reduce the patient DNA, project to reinstate a lung procedure that was suspended during the pandemic and the creation and implementation of a recovery plan to reduce high volume of patient backlogs from 800 patients to 150 within three months by increasing capacity and consolidating the resources. The outcome have been positive and I've met my objectives.

• What was the most inspiring thing that happened during your apprenticeship?
The most inspiring thing was seeing that all the theoretical learning that I applied at work were working and I could hear the staff feedback and see the results. Simultaneously, my tutor feedback regarding my improvement in terms of how I write and present my cases during one to one discussions as well as my resilience to meet all the deadlines in between adjusting to my new jobs and other challenges. That's very inspiring and incentivising to continue. I ended up having two promotions throughout the programme.

• How has the apprenticeship benefited you? What skills have you learned?
The apprenticeship provided me with the essential tools to become a better manager and leader by improving my self-awareness, emotional intelligence and resilience. I have learned how to use the different ways of communication, use of Gantt charts to meet targets, talent management using the nine box grid, different stages of project management, different stages of team performance, creating a strategy plan and prioritising important vs urgent tasks.

• Who has supported you and who have you supported during your programme?
I had support from my family, my line managers, my tutor and my mentor. I have supported my staff and some even achieved promotions as a result of my support and mentoring.

• What would you say to someone who was deciding whether they should do an apprenticeship?
I would recommend them to go for it and advise them to be open to honest and constructive feedback and act as soon as they hear it as it will benefit them in the long run.

• How did you find the advice and guidance given throughout the apprenticeship duration?
Very valuable and again it depends on the tutors and how the message is communicated but overall the advice was very beneficial.

• Are you looking to take your qualification further and undertake the next level?
I am considering to do so after a period of break ( 3-6 months break). I would like to either do an MBA or apprenticeship level 7.

• What are you doing now and has this apprenticeship helped you to achieve your goals?
I am currently working as Business and Service Manager for the biggest NHS trust in London and I have been working on improvement action plans for the internal/external audits and inspections such as CQC, strategy plan and QI project which allow me to implement most of the learning from the apprenticeship.

• Would you recommend Hawk Training as a training provider to others looking to do an apprenticeship?
Yes, I would definitely do.

• If you had to use one sentence to describe your apprenticeship what would it be?
The best start for anyone who is new to the leadership and management role and has inspiration to go far in their career.

If you're interested in any of Hawk's programmes, then contact hello@hawktraining.com.
Read More
Prev