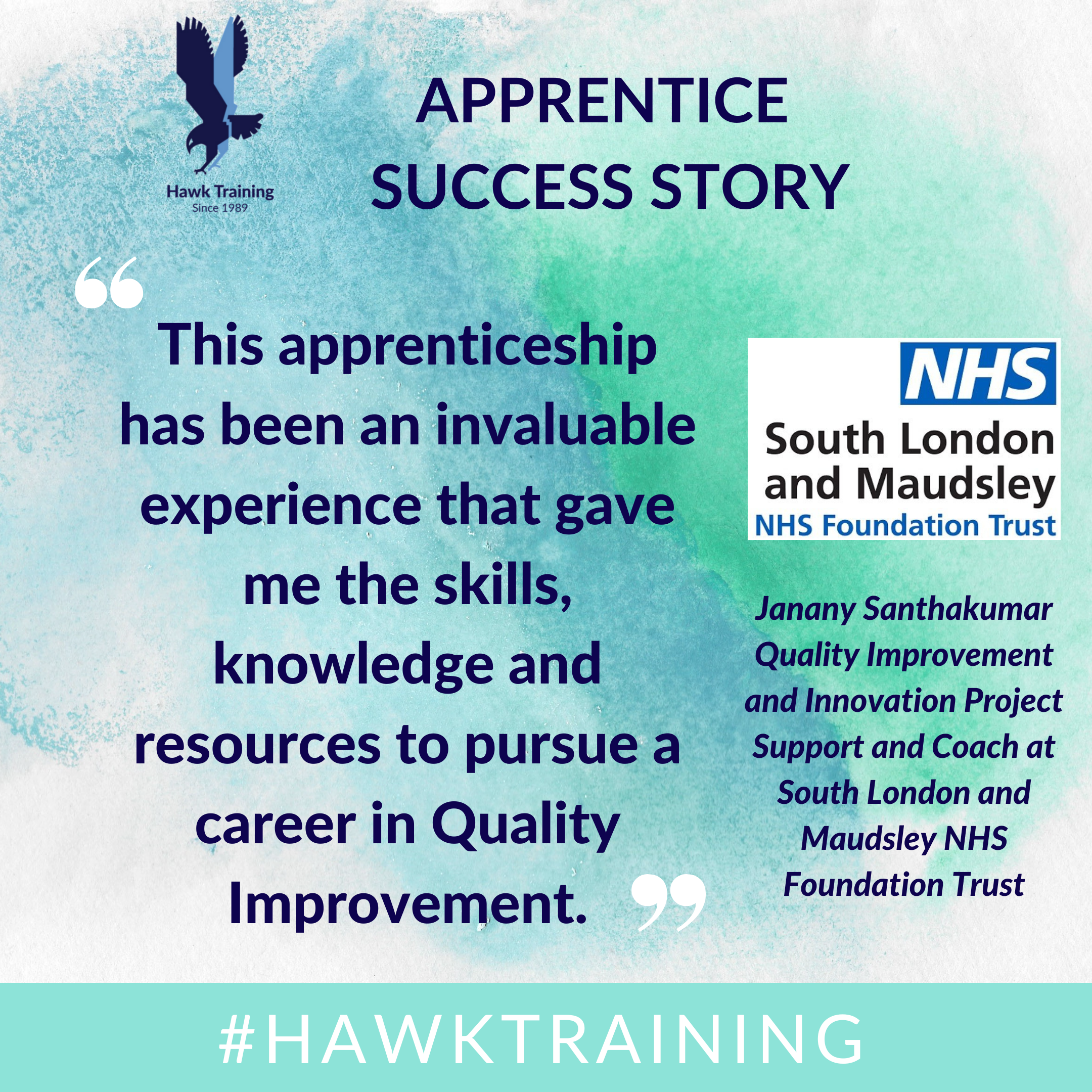 Janany Santhakumar
Meet Janany Santhakumar, Quality Improvement and Innovation Project Support and Coach at South London and Maudsley NHS Foundation Trust. We caught up with Janany to find out how her Quality Improvement Apprenticeship has supported her development...
How did you find out about apprenticeships and why did you decide to undertake one?
I found this opportunity advertised in our Trust Comms. I decided to undertake the apprenticeship as I wanted to develop my existing project management skills and learn more about Quality Improvement and the Model for Improvement methodology used by SLaM and other NHS Trusts. I hoped to use the skills and knowledge I was going to gain from this course to secure a project management role – which I was ultimately able to do!


What did you find challenging about your apprenticeship?
Initially I found it challenging coming up with QI projects within the Postgrad department. Business-As-Usual (BAU) activities carried out by the team tend to happen on a 4 or 6 monthly basis around each doctor rotation. This made it difficult to collect data to show that any change was an improvement. I was lucky to identify a project which I could collect regular data on (as opposed to once very 4 or 6 months). Allocating time to carry out the apprenticeship work was also challenging. This was due to occasional high priority work related duties along with challenges in my personal life.


How do you think you are contributing to your organisation?
I got shortlisted, and successfully recruited, to a QI Lead role within the NHS which was a significantly higher banding than the role that I was in at the time. I believe the key to my success in obtaining this role was the experience gained through carrying out a QI project for this apprenticeship. In preparation for my interview I had an interview preparation session with my apprenticeship tutor Stuart Smith who was incredibly helpful and supportive. He coached me through the process and provided advice and feedback on answers to the competency-based questions that I had prepared. The experience gave me confidence to go into my interview and secure the temporary contract. Since returning to my substantive post following this contract, Stuart provided further support for other interviews and since then I've been recruited to an even higher paying project management role. The experiences I have gained throughout this programme have supported me to apply for these roles which I am very grateful for.


What was the most inspiring thing that happened during your apprenticeship?
The apprenticeship has greatly benefited me. Through learning the course content, under Stuart's direction and further support, I have developed my Quality Improvement knowledge and skills which has supported my career progression both as a QI Lead and in Project Management.


How has the apprenticeship benefited you? What skills have you learned?
The apprenticeship has benefited me enormously. I have grown in confidence and by developing my skills in QI, I felt ready to apply for a permanent position in the Quality Improvement Team. I was successful in my application and I am now working full time as a Quality Improvement and Innovation Project Support and Coach.


Who has supported you and who have you supported during your programme?
My apprenticeship tutor and mentor Stuart Smith has been an excellent and supportive coach. During my apprenticeship I've had to deal with several difficult personal problems which had impacted my personal circumstances and mental & physical health, but I felt very supported whilst on the programme.


What would you say to someone who was deciding whether they should do an apprenticeship?
To anyone interested in starting an apprenticeship I would strongly recommend that they start an Improvement Standards Apprenticeship such as the QI Technician. If you are interested, willing and able to commit the time and effort into carrying out QI initiatives you will find this course very effective. The course content is interesting and thought provoking and will give you the skills, knowledge and critical thinking required to build a career within not just QI but in project management. I have been able to secure a job role jumping a number of pay bands as a result of the course content and particularly with the support of my tutor and coach Stuart Smith and am very grateful for this experience as a whole.


How did you find the advice and guidance given throughout the apprenticeship duration?
I have found the advice and guidance provided by my tutor, Stuart Smith incredibly valuable and I have absolutely nothing negative to say about him. He has been very kind, supportive, compassionate and generous with giving support, practical advice and teaching content. He has been very resourceful providing additional reading and explaining concepts that I had found difficult to understand. With his support, I believe I have had a better experience of the course as a whole and believe he has gone above and beyond his remit to provide coaching support. He is a massive part of the reason I continued with the course through the personal difficulties I was experiencing.


Are you looking to take your qualification further and undertake the next level?
As I am starting a new role, I won't be progressing immediately to the higher-level programme. Although my interest and passion for QI has grown whilst on the programme and hope to continue my learning to a higher-level programme when my role permits.


What are you doing now and has this apprenticeship helped you to achieve your goals?
Yes, I believe the course has helped me get where I wanted to go quicker than I would have on my own. I have gained valuable QI and Project Management knowledge, skills and experience which has supported me to pursue a career within project management which was my goal. When I had started the course, I was a band 5 Programme Coordinator with previous Band 6 experience as a Project Officer. Eight months into the apprenticeship I was successfully recruited into a 3-month contract role as Band 7 QI Lead and with that experience and knowledge I have been able to secure another fixed term contract as a Band 8a Programme Manager. This a massive progression in my career development which I am very happy and grateful for.


Would you recommend Hawk Training as a training provider to others looking to do an apprenticeship?
Yes, I would recommend this course to anyone interested in progressing to have a career in QI or Project Management and are ambitious enough to do this. I think it's an invaluable experience particularly if you manage to secure Stuart as your Tutor!


If you had to use one sentence to describe your apprenticeship what would it be?
This apprenticeship has been an invaluable experience that gave me the skills, knowledge and resources to pursue a career in QI.
Prev
Next