Margaret in management...the story so far...
Case study written by Margaret, who completed her Level 2 Diploma in Team Leading and Management with Hawk Training in 2016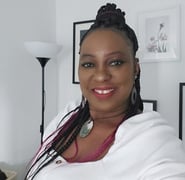 I am pleased to say that I have a vast experience of working in Leadership roles since having trained as an apprentice with Hawk Training. Since qualifying in June 2016 I have held positions such as baby room lead, preschool lead, head of SENCO and now third in Charge and acting Deputy Manager for maternity cover. I thrive in helping my team carry out the day-to-day running of the toddler group in the nursery through the team leadership skills I learnt and gained from Hawk training. I am able to make the right choices in decision making and problem solving, as well as time management efficiently.
I thrive in having good parent partnerships with the setting and help them appreciate their child's experiences in their early years foundation for them to have full potential in their learning. For that reason, I take my role seriously such as it's not just the salary to me but it is the will to come up with strategies and target outcomes in order to provide support for children with learning difficulties and special needs so that they can reach their full potential in learning.
I work closely with management authority and have formed strong relationships with my team to encourage a partnership of working together.
My flexibility and willingness to take on other responsibilities and duties as deemed necessary to work alongside the manager and support staff team to ensure that the targets are met.
My extensive involvement in a series of training sessions to support staff in implementing day-to-day practice which comply with the company policy, that everyone is treated with respect and also to ensure health and safety at work.
I take this opportunity to say thanks to Claire Dowers who is an exceptionally committed tutor and mentor who helped shape me to be a leader I am today. I built a good foundation and knowledge during my apprenticeship, with support from Claire, and this will go a long way to my future endeavours.
Prev
Next