By Crawford Knot, Managing Director of Hawk Training
As I approach my 19th anniversary working with Hawk Training, it's interesting to note that I'm by no means the longest serving colleague here. Indeed there are three other colleagues, including two directors, who've been here even longer than me!
How it all started…..
Hawk Training began life 30 years ago in the peak district of north Staffordshire, in a farmhouse to be exact. Our founder, Terry Barnett, began his own career in the 1950s as an apprentice gas fitter at the age of 15 on the then North Midlands Gas Board. With a number of career changes and time spent working as a firefighter, salesman and teacher before founding Hawk Training, Terry never forgot the impact an apprenticeship had had on his life and was keen to champion the importance and value of vocational skills for individuals, communities, employers and the economy at large. The first programmes Hawk Training provided were those aimed at middle management and the organisation put the very first learners in the county through their NEBSM programmes in the early 1990s.
The move to Twickenham
In 1998, Hawk left its then headquarters in Newcastle under Lyme and relocated to Twickenham in west London following a chance encounter with a representative of Job Centre Plus at an industry trade fair who explained that their organisation was looking for a provider to deliver high-quality employability programmes. Fast forward over 20 years and Twickenham still serves as Hawk's base from where we currently support almost 2000 learners and over 400 employers with a range of apprenticeships throughout England. We relocated to Regal House in 2005 and moved into our current centre in 2011 which comprises over 10,000 square feet of state-of-the-art facilities and acts as a base for around 100 Hawk colleagues.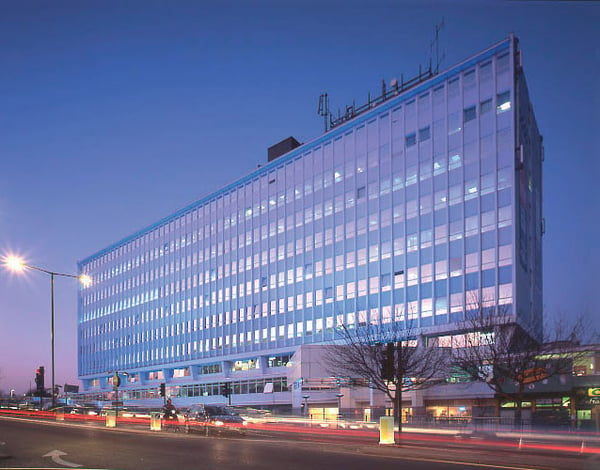 Our vision
Our vision: 'To be the best provider of vocational and professional learning - Innovate, Connect, Learn, Grow'
Our focus has always been to deliver an outstanding experience for the learners and employers we partner with. We have grown as an organisation in a measured way on a sound financial footing and in September 2013 Hawk became the first independent learning provider in the country to be graded Ofsted 'Outstanding' following inspection by the education watchdog.
In order to deliver an outstanding experience for learners and employers, we have to recruit outstanding people who share our vision. We are proud of our team and they enjoy working for us, born out through our staff feedback and staff retention rates of almost 80%.
Over our 30-year history, the past couple of years have seen unprecedented change in the apprenticeship sector with the introduction of the apprenticeship levy and the switch from apprenticeship frameworks to standards, with the last frameworks being phased out before the end of July 2020. Smaller, non-levy paying employers are also expected to co-invest in apprenticeship programmes to the tune of 5% of the overall cost of the programme.
Anticipating and keeping pace with change has at times been challenging, but our longevity in the learning and development has been achieved by an agile approach and harnessing the best talent and skills of our colleagues along with developing strong partnerships over a significant period of time. Our partnerships with employers and learners are key but it's worthwhile citing other stakeholders as being pivotal to our success. The Education & Skills Funding Agency administers the funding of apprenticeships in England and previous incarnations have included the TEC, LSC and SFA. The fact that Hawk has seen them all come and go tells its own story. We work closely with End Point Assessment Organisations to help make the experience of apprenticeship standards as smooth as possible. We develop structured programmes of learning which prepare the learner and also make the most of, and capture, off the job learning which constitutes 20% of the time an apprentice spends at work.
The next 30 years will undoubtedly bring challenges and opportunities. The rise of automation will mean that people need to unlearn, relearn and upskill more than ever before. Online learning which is available 24/7 is commonplace nowadays and at Hawk, we develop our own content as well use the best that other partners have to offer. Learners and employers at our forums and elsewhere consistently tell us that technology is an enhancement, not a substitute for personal interaction with our Hawk colleagues. Much as the landscape will change, it is those personal relationships which will enable us to continue to support our learners in reaching their goals and delivering tangible benefits to employers, communities and the UK as a whole.
We would like to thank everyone that has helped us grow over these past 30 years into the passionate, outstanding and empowering company we are today. We are very excited to see what the future brings and hope you join us on the journey!
If you would like to know how Hawk Training can support you / our business then contact our team on email: Enquiries@hawktraining.com or tel: 020 3664 7258