As we enter May 2021, we are so proud to have reached yet another fantastic milestone here at Hawk Training - 3,500 early years apprenticeship achievers!
Since Hawk Training begun delivering early years apprenticeship programmes back in 2005, we have seen vast changes within the sector. The most recent of which came in 2019 following the switch from apprenticeship frameworks to standards as part of the apprenticeship reforms. These standards, developed by employers and professionals in the sector, are designed to ensure a high level of on-the-job learning and the development of necessary skills.
It is also the first time that a formal assessment must be passed before learners receive confirmation of achievement of their early years programme. Here at Hawk Training, we invested a huge amount of time and resource to ensure our learners are fully prepared for this change and to ensure we can provide them with a high level of support in order for them to reach their goals and achieve their early years standard apprenticeship programme. This has led to the 100% achievement rate of learners passing their End Point Assessments so far.

In 2021 we continue to look to the future and strive for the best for our past, present and future learners by continuing to offer outstanding provision to ensure future development. This includes the release of our first ever early years online commercial course: Stepping up to Leadership in Early Years, set to be released very soon.
We recognised that upon achievement of their Level 3 Early Years Educator programmes, learners and employers were longing for further development opportunities and are eager to achieve knowledge and skills at a higher level.
Our 'Stepping up to Leadership in Early Years' course is an adaption of our popular 'Stepping up to Leadership' management course, designed solely with the early years sector in mind. This learner-led course will support Level 3 qualified learners in developing their skills in order to step up into a room leader/ supervisor role with confidence.
Click here to register your interest in our Stepping up to Leadership in Early Years Short course.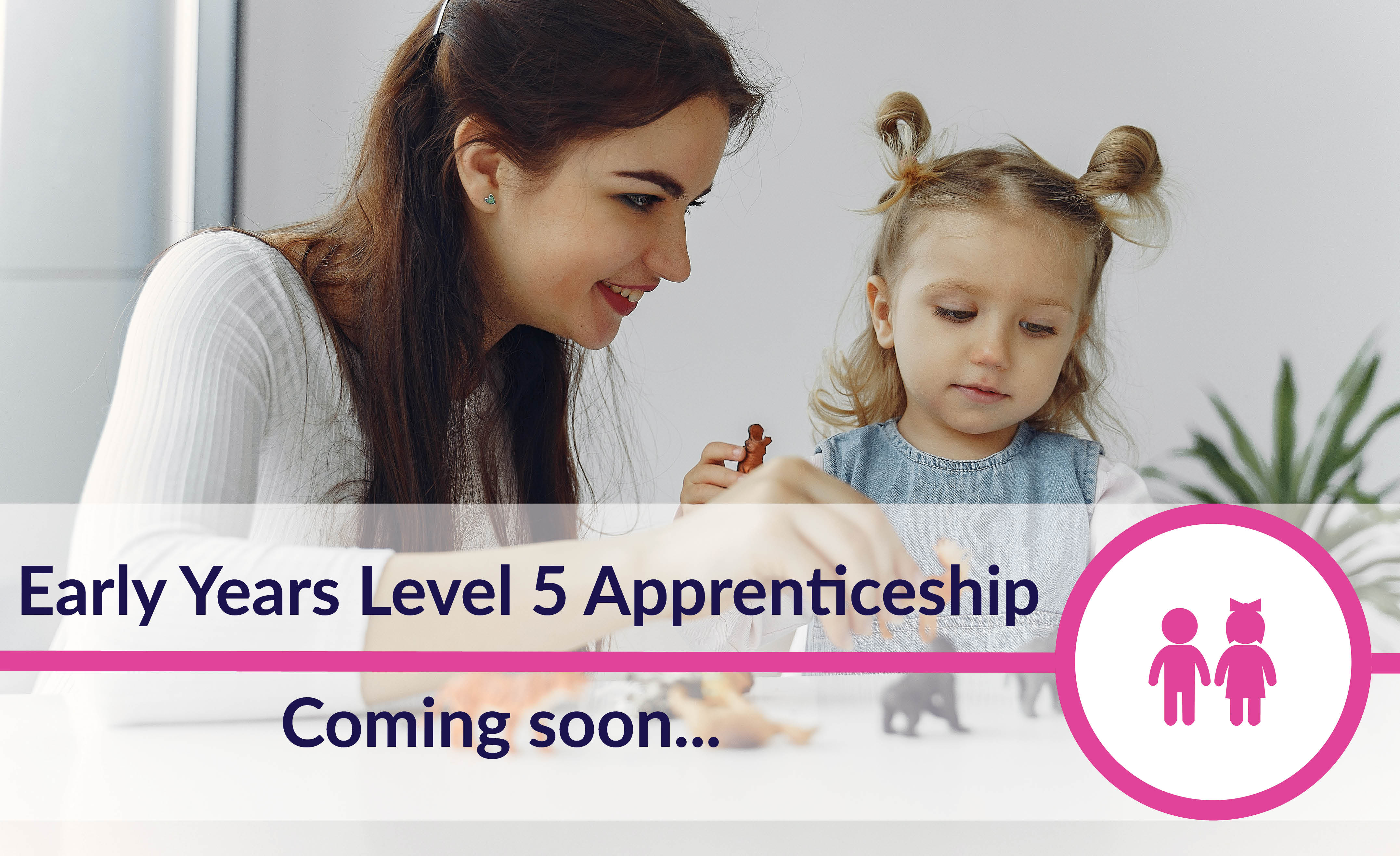 As we follow our learners through their programmes and watch them progress from unqualified apprentices into managers, who themselves are mentoring and managing apprentices, we are also excited for the launch of the long-awaited Level 5 Early Years Lead Practitioner Standard which will provide a deserving industry with further opportunities for career development and progression.
The new programme is aimed at developing proactive and influential practitioners, who work directly with children, skilfully leading day to day practice at an operational level. The programme is expected to be released by the Institute for Apprenticeships and Technical Education imminently, you can register your interest to find out more about this programme here.
Keep an eye out for updates on both the Stepping up to Leadership in Early Years course and the new Level 5 Early Years Lead Practitioner Apprenticeship programme.